"You don't necessarily have to be a writer to pen down what you think or feel. Just take a pen and paper or even your phone and make a note. And then you'd see that it's the paper or the phone's problem after that and it's off you. This feeling is so amazing!"
These are the words of Vinita Malik, a stay-at-home-mom to two kids, who's now exploring the world of words and writing since the past 1 year. Vinita had been a full-time practicing dentist in the past but she chose to quit her practice and stay home with 2 young kids. Does she regret the move today? Not at all!
She beautifully expresses it in her own words. "I have no resentment or regret of having to quit my full-time profession and become a SAHM because that was what was needed at the time. The kids were small and my husband would often be traveling. It's okay, I thought. Sometimes you're needed more somewhere else."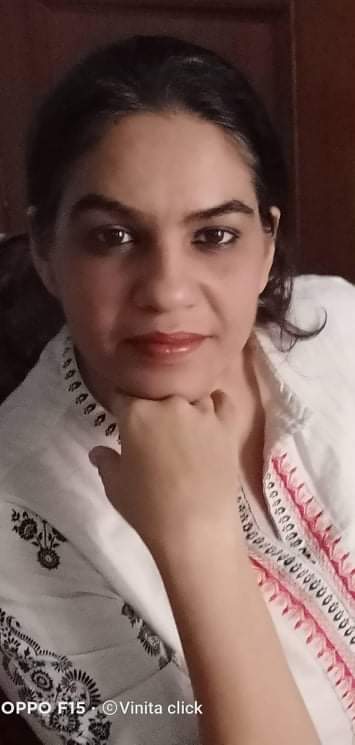 Also, despite being a SAHM, Vinita has never run behind in search for a passion or to necessarily pursue any interests. She's been a happy SAHM all these years, as she puts it, looking after the needs of her family. She used to enjoy reading and writing back in the days and would often write a diary. The thought of publishing her write-ups online came to her just last year on encouragement from her husband.
Vinita started publishing her write-ups on the internet and soon got featured on womensweb.in and elephantjournal.com. Today, she's one of the top 10 featured writers on the Elephant Journal. But Vinita says none of this was something that she was really after. She writes purely for joy and self-contentment, and she has the same message for all SAHMs out there, particularly those who might feel that writing only suits a few.
It's not always about writing a blog or a post. It's more about journalling your thoughts, your feelings at the moment. It could be something as plain and simple as "I'm not feeling great today because my kids were troublesome all day long. My husband couldn't help me because of his work. My maid didn't turn up either". Just that. Write it down and feel the difference.
This and many other conditioned beliefs sometimes hold us back in our journey. Vinita aspires to bust some of these popular myths going around about stay-at-home-moms in general. Here's 5 of such beliefs that I picked up from the video shared below of our conversation (I recommend watching the video to know more about these in detail).
5 Popular Myths About SAHMs Busted!
Being a SAHM can be by choice and you don't always need to resent it or feel unhappy about it. It's just that sometimes you're needed more someplace else. It's just about choices. And if you feel that the choice you make is important in the interest of everyone involved, then you make it. I never resented the choice I made or felt unhappy about quitting my dental practice to be with my kids, Vinita says.

As a SAHM, you don't always have to feel that the entire onus is on you because it isn't. You aren't always responsible to make sure that everything around is perfect. You don't have to do it all.

You don't always have to have a passion. The social media might trick your mind into believing that you ought to have a passion like everyone else - writing, cooking, singing, dancing - but it's really okay if you don't. Even if you're average and not really great at something, the world isn't going to fall, she says. "Your kids aren't going to love you less or hate you more. Just be yourself and accept yourself for who you are."

It's very important to be real and honest in today's internet age. Be honest to yourself. Don't fake it. Stay who you are. You don't have to change yourself to look better on social media. Your struggles are real.

Writing helps everyone. Every single person. And the good news is that you don't have to be a professional or passionate writer always. If all you can do is just pen down your thoughts at the moment on paper or on a notepad on your laptop or even on your phone, it's enough. Your thoughts and feelings are off your mind. And this feeling is really amazing.
This is just a glimpse of the very interesting conversation that I had with Vinita. Catch the full video below to know more. And yes, you might also love to go through some of her writings which you can find at the links below:
Follow Vinita on her social media handles -
YOU MIGHT ALSO LIKE:
When You Don't Find It, Create It! An Inspiring SAHM Story Featuring Simmi Anand
When Life Gives You Lemons, Make Lemonade! This SAHM Story Teaches Just That
(If you liked the post, don't forget to share it around in your network. Also, if you're a SAHM and have an inspiring story to share with the world, feel free to get in touch with me and I'd love to have a chat with you. For more such inspiring and helpful posts directly in your inbox, subscribe to Stay At Home Mummy for free).