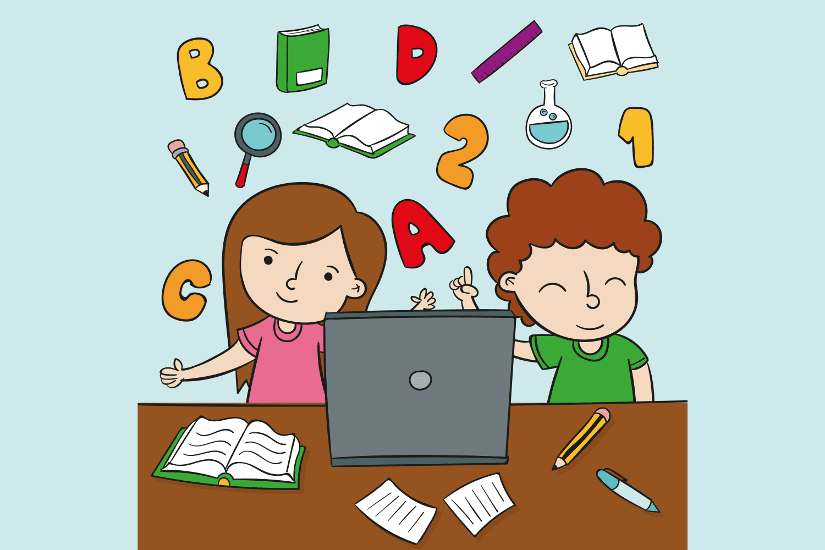 It was just another manic Monday during the lockdown. I was busy finishing household chores which obviously have more than doubled now, thanks to COVID-19. Amid this, my phone beeped. It was a text message from the school stating that online classes for preschoolers will be starting from June 1.
Admittedly, I was bewildered at first (like any other preschooler's mom). I wasn't able to comprehend how virtual learning for a child who's never been exposed to a school environment would actually work. I called up the school and was told that since my child had been admitted before the lockdown happened, and the latter had put an indefinite halt to normal schooling, e-classes seemed to be the only best option.
So in a way, thanks again to Corona, these sessions had been thrust upon us parents, or so I felt. I spent the next one week trying to figure out how remote learning could actually make sense for a preschooler whose attention span is even less than a fraction of a second! They wouldn't even sit in one place, let alone grasp anything doled out to them. Time passed and it was June 1, the first day of my child's schooling…online.
It Wasn't That Bad After All, Barring Few Challenges
After two weeks of having experienced something I was quite skeptical of at first, I can say today that the idea of online preschool classes for toddlers really isn't as bizarre as I'd thought it to be. In fact, as days passed by and my child was exposed to these sessions on a daily basis, it became a sort of "fun affair".
I was really amused to note that my toddler would actually await the next class or video with eagerness; even keep asking me about it! Of course, the road from the first week to the second (the transition stage) wasn't easy. There were challenges, some of which perhaps you may be able to relate to:
Limited attention span; disinterest in watching something for long

Making the child understand concepts later because they hadn't been paying attention during the class

Getting them to do homework assigned at the end of the session
Having gone through these teething troubles myself, I discovered that the success of these classes would require the coming together of two hands - teachers and parents.
How to Engage a Preschooler Online: Parents Have a Crucial Role
Like any other parent, I too was overwhelmed at first at the idea of having to sit with the child and teach them just like their teachers would at school. With an already busier home schedule during lockdown, it did feel daunting. However, by the second week of the classes, I figured that a few small things can actually help ease out the situation considerably. Here I share the learning I picked up during my journey:
Keep a set time everyday
With live classes, this would happen anyway but if you're showing recorded videos to the child, then also it's important to follow a set schedule daily. This would help discipline the child and will be comfortable for you as well. Choose a time that suits you both - when they aren't cranky and you aren't busy with other household chores.
Invoke excitement in the child's mind
By the end of the day when I put my toddler to sleep, I ask: "What did you like about today's session? Did you enjoy it? Do you know tomorrow ma'am/sir will be conducting another similar session for you to have lots of fun. Yay!" You showing excitement for the class would help your child get eager to attend the same.
Play it out
You anyway know that you'll be assuming the role of the teacher here - from teaching them concepts to helping them complete tasks assigned by the teachers at the end of the session. Why not make the whole process enjoyable for both of you?
At the end of the session, act out the whole lesson with your child; involve them in a game. Tell them that you're the teacher and he/she is your best student in class. You want them to show to the whole class how well they've learned/completed their work.
Kids love to show off their achievements. Your child would only be too happy to oblige, quickly finish the task at hand and go around showing it to you, their dad, a sibling or anyone else at home. Besides that, it'd also facilitate their learning process. Try and enact the whole session in the form of a story or rhyme (or whatever best they like) to them in your free time. This would reiterate the concept in their mind better.
To cite an example, my kid's teacher introduced the color 'yellow' during one session. At the end of it, I asked my child to fetch all the yellow-colored things in the house. It's such a joy to see them running around and eagerly doing tasks the fun way.
What Teachers Need to Keep in Mind
The teachers are doing a commendable job in striving to make online preschool a success. Here are a few key observations though from parents in the larger interest of the kids:
Ensure limited screen time
This is perhaps the primary concern for parents of small kids. Experts suggest that prolonged exposure to the screen can have adverse effects on the child's mental well-being. Ideally, the total session shouldn't be more than 10-15 minutes.
Keep a mix of live sessions and recorded videos
This would help solve the screen-time problem and also prove more beneficial to the child. Because kids have a very limited attention span, it'd be unfair to expect them to sit at one place, particularly during live sessions. Not to mention, it may be embarrassing for the parents as well while some kids may be screen-shy too.
Pre-recorded videos have several advantages. One, you can regulate the screen-time exposure of the child. Two, you can let the child watch it any time of the day when they're comfortable and settled. Three, the videos can be shown to the child time and again for better grasping and learning.
Keep the content engaging
Children love music, actions, expressions and gestures more than just words and pictures. To captivate their attention in the bare minimum attention span, it'd help to revolve the teaching content more around music in the form of rhymes and short stories with actions and expressions.
Most important, during recorded videos, interact with the child as though you're really talking to them in person. It may be difficult to imagine so, I understand, and can be challenging for the teacher. But, it'd go a long way in establishing connect with the child. Address them from time to time in the video, keep activities that require them to give answers as they would in a classroom setting. Let them have lots of fun with exploratory tasks which offer rewards at the end.
To Conclude
Whether or not live/recorded distant learning for preschoolers is a good idea or not is another debate. But most schools have already started the practice, either to complete the syllabus in time or to engage kids on request of some parents. In the current situation, I feel it's only wise to make the best of what's being offered.
The teachers are putting in a lot of effort to engage toddlers as best as possible. We as parents too can play our part in helping them out by being a teacher to our children for just a little while more. After all, a mom is the child's first teacher, right? :)
How're you coping with e-learning for your preschooler? Share your experience in the comments below or drop me an email. If you found the post helpful, please share it on your social media handles to help other moms. You can also follow me on various social media platforms for more such posts or subscribe to my blog to receive regular updates in your inbox.