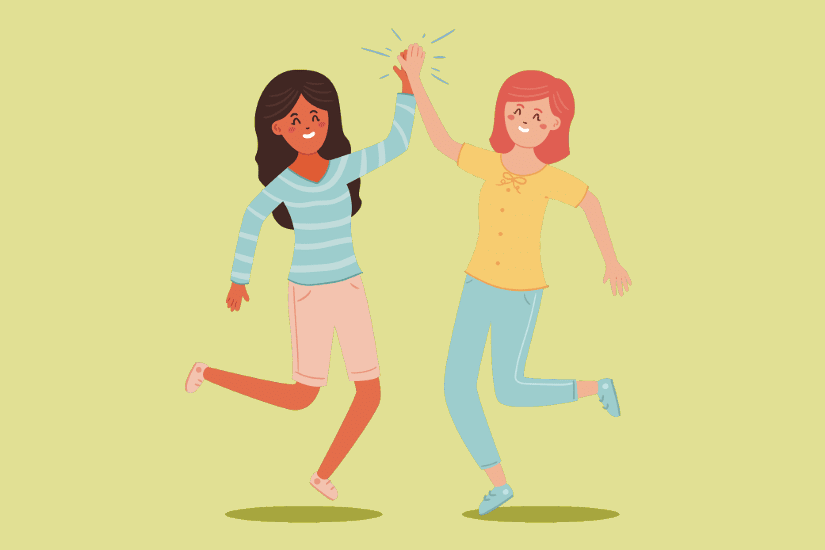 Having kids – the responsibility of rearing good, kind, ethical, responsible human beings – is the biggest job anyone can embark on. [Maria Shriver, American author and journalist]
Last week, I ran into an old friend at a shopping mall. We hadn't seen each other in years so grabbed some coffee to catch up. She started the conversation with the question I'm often confronted with: "You still working?" I replied with a smile, "Oh yes! I have a full-time job with two kids."
She laughed. "Okay, so you aren't working anymore!" I retorted, "Of course I am. I'm a mom and a homemaker. Isn't that work?" She smirked. "Oh come on!" she said, "That's just housework. I too have kids but I haven't given up my career to be just a homemaker."
Just a homemaker? Her words rang an unpleasant bell somewhere. Is that all the respect the world has for such a pivotal role in the household? Sadly, yes. However, I realized it wasn't her fault because homemakers and Stay At Home Moms (SAHMs as they're commonly addressed) don't often receive their due importance from our society.
Stay At Home Mom – The Unsung Hero
If you chose to forego your career and income to raise kids and help them grow into cultured adults, you may have been bombarded with the following:
"What do you do all day?"
"Why aren't you working? Looking after the house and kids isn't a job."
I agree. A stay at home mom doesn't earn money. I also agree that women like me consciously chose to stay home and raise kids over stepping out and pursuing career dreams because we didn't have a dire need to bring bread to the table. However, even without a financial need, we could have still climbed higher on the success ladder like other working moms.
We chose not to. Why? Some of us didn't have support (family/friends) to babysit kids. Some weren't able to afford a nanny while others simply weren't comfortable trusting an outsider to look after their children. Whatever the reasons to be a stay at home mom, does it mean that today our contribution towards raising kids into well-mannered, responsible adults doesn't stand anywhere in comparison to the one made by a working mother?
True, the latter adds to the family income; the stay at home mom doesn't. Yet, where the former strives to achieve project milestones every month; the latter's helping her child attain developmental milestones and also experiencing them at the very moment they happen. A joy indescribable.
I don't say working mothers are any less than SAHMs in fulfilling their household roles. They may be balancing things out perfectly. I'm just saying that while the monetary contribution of a working woman can be ascertained in figures, no number can be put to how well a job you did in raising your kids by yourself.
Time to Break the Stereotype
I've come across some stay at home moms who feel they don't have a life anymore. Since they couldn't pursue their aspirations when motherhood happened, they failed to discover newer paths even when their kids grew older.
"The prime time of our life is over. We spent 10-15 years of married life looking after the house and kids. What more can we do now?" A lot of moms feel hapless thinking they have no skill to make it big in life.
I say, ladies, there's never a better time than now to start anew. The moment you realize it's time you did something for yourself, just get started! You don't have to start big. Dream big. Start small. Stay steady.
The road may not be easy at first but it isn't impossible to tread on either. Most important, you can look after the kids, clean the house, and still follow your unrealized or half-realized dreams. Look within you for a hidden talent/passion because only you know your true worth.
Showcase that talent to the whole world. Start a blog, for instance. Share your precious learning and experiences with others like you. Teach and learn together on how to be a successful stay at home mom. Or, start a YouTube channel to share the innumerable knowledge you've earned in cooking or parenting over the years.
Remember, every mom's a storehouse of valuable knowledge. She may not have worked in a job but still has ample experience in life's most important domains – parenting, marriage, and household. Don't let those pearls of knowledge go away with you.
YOU MIGHT ALSO BE INTERESTED IN: Meet Our Inspiring SAHMs
Are you a SAHM too? I'd love to hear your story. Leave a comment below or email me. You can follow me on various social media channels for more such stories. And, don't forget to subscribe to my blog to get regular posts in your inbox. Wait for my next one soon!